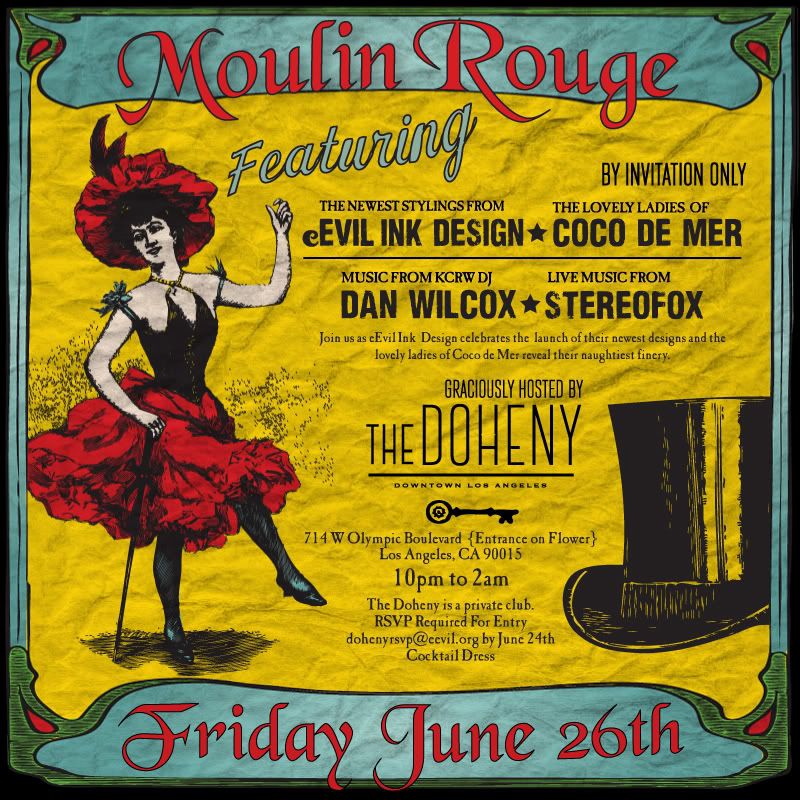 eEvil Ink Design "new product" Launch Party!
(in cahoots with Coco de Mer USA)
SEE:
fabulous brand new designs by eEvil Ink Design!
SEE: curious items of finery sold by Coco de Mer of Hollywood.
DRINK: intriguing spirits & sophisticated libations at The Doheny, Downtown LA.
SPIN: KCRW's own DAN WILCOX stylings & sampler.
BAND: Live music by Stereo Fox!
FEEL: like a real somebody!!
GO: THIS FRIDAY! June 26th
MUST: RSVP by June 24 on this page or by this email: dohenyrsvp@eevil.org
COMPLICATED: hard to find valet parking & entrance on FLOWER St. Look for a sign with a key on it.
SLACKS: cocktail / evening wear is required, no jeans or teed shirts or jimmed shoes allowed.
EXPANSIVE: professional mixologists will be standing by to take your every drink order. It is a full bar with plenty of pricey yet satisfying drinks for you and yours- and that one guy & that one chick.
BUY: www.eevil.org
oOLALA: www.cocodemerusa.com